While traditional sports at Del Campo are something to take pride in, those teams do not reflect the whole of Del Campo Athletes.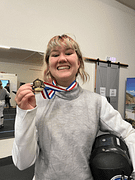 Junior Maxx Zander is an athletic student whose athleticism is not reflected in the school programs. Zander's sport of choice is competitive Fencing.  They fence at a small club called Heisler Fencing located in Rocklin.
"Yeah it's really cool, I've been there since it opened back in November of 2021," stated Zander.
They started as a beginning fencer with no prior experience or goal for how far they wanted to go in with the sport. Now, almost two years later, they are an assistant coach, a rated referee, and a fencer who competed on a national level.
Coaching seems to be their biggest joy when it comes to their work in the fencing community. "It's wonderful, I just had my first student go to a tournament and it was a joy to be there with her. I'm just glad she had fun and is willing to compete."
Zander is a figurehead when it comes to the younger girls who come to Heisler Fencing.
"I'm the only older girl who coaches. I'm also the only older girl who competes. I've heard from all the younger girls' parents that I have inspired them even with simpler things. Two girls have pink bags because they wanted to be like me. I am so glad the parents like me too."
Zander provides a challenge for competitors who face them. "I fence left-handed which can throw off anyone I fence. It changes the target area and the distance. Left-handed fencing covers the lefties target easier and can open the opponent up for the lefty."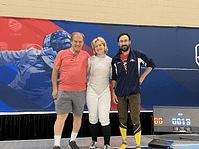 The sport of fencing can bring with it a large price tag. One weapon alone can cost anywhere from $70 to $200. However, with help from Gracepoint Seventh-day Adventist Church, which lets Heisler Fencing use its facility, and volunteer instructors, classes are completely free to fencers. 
While fencing is a fun sport, injuries still happen. Bruises are common, both large and small. Muscle strain and joint injuries can also happen, and tennis elbow is an incredibly common injury.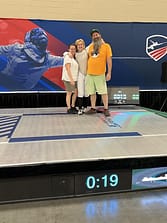 "Fencing is a contact sport. Just because we aren't tackling or checking our opponent it's still contact. We are still stabbing each other with a blunt piece of metal."
Fencing for Zander isn't just the competition, besides coaching and fencing they also referee. They are a rated referee, which means they can referee tournaments for pay.
"The pay is good. I've been paid $280 for one weekend where I worked six hours each day."
The rating system is complicated but has four main sections. The highest level is the FIE, which is the official Olympic level. It is set up in France and changed yearly by an international community. Next there is a national referee, and then local referee . In each category are two sub categories consisting of level one and level two. Anyone who is a two is a beginner referee, while level one referees have mastered their level. Zander is an L2, or local two.
As far as competition goes, Zander has fenced up to the national level competing in two divisions at the 2023 Summer Nationals in Phoenix Arizona. Zander and their club is now preparing for the 2024 summer nationals in Columbus Ohio. "
"Of course I can't take all the credit for this, my coaches Ed Podasa and Brendan Heisler have been a big help. Ed was the first to push me to compete in the first place, and Brendan has given me some amazing opportunities when it comes to coaching and refereeing." 
Maxx Zander has a well established place within the fencing community and is offering an open invitation for anyone who wants to come check out Heisler Fencing at heislerfencing.com.