For the first time in the history of the school, Del Campo has a girls Flag Football team…and they are undefeated!
Due to a high level of interest in football by female athletes across the state, the California Interscholastic Federation (CIF)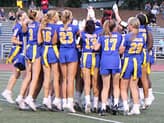 officially sanctioned the sport for all state high schools in February of 2023.
The road to making flag football an official sport, began with Title IX. This law was passed in 1972 and it aimed to ensure that male and female students were treated fairly and equally both on and off the field. It required schools that receive federal funding to provide the same athletic opportunities for male and female students and opened the door for female athletes to play the sports that their male counterparts had been playing for years.   
Fifty one years after this groundbreaking legislation, there is a new generation of female athletes and they are ready to play football.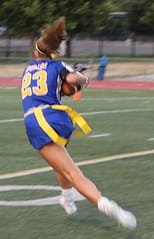 During the 2021 season, Del Campo had a large number of girls playing on the boys football team, so there was already interest on campus. Coach Jay Lottes volunteered to coach the girls and went to work putting together a team. His approach for finding athletes was different.
"I was looking at athletes that were little built on speed, and not size. In football you look for size and brute strength. In this non contact game, speed and agility first, and if I've got someone with speed and agility I could teach them the rest of it." 
This hunt for agility led many soccer players to join the team, who enjoy the sport and the activity during their off season.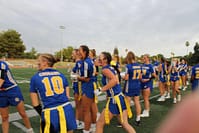 "I am a soccer player and love to stay active and flag football came around and I thought it would be a great opportunity to do a new sport and be a part of something new." Ashlynn Ratley (10) 
After the tryouts last school year, the team ended up with 25 athletes who spent the summer months training and preparing for the upcoming season. That training consists of three areas. First the team does warm ups and footwork drills. Next they split into offensive drills and defensive drills. Finally, they scrimmage to work on the skills they will use against their opponents.
"Practicing over summer gave us a huge advantage over other teams which is truly why we are doing as well as we are." said Samantha Mose (10).
The hard work and dedication by the coaches and athletes has paid off. The Lady Cougars are number one in the league and this historic season is leaving a firm mark on Del Campo's sports legacy.
"The culture of the team is very supportive.  We hold each other accountable to have a standard of excellence but we do it in a way that is inspiring.  The bond we built is like a family." Zoey Kothe (12).  
While there is definitely a family element to the team, Coach Lottes keeps them on a tight practice schedule.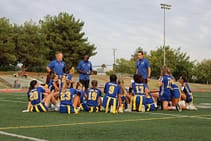 "Lottes works us hard and knows the potential we all have. He always makes us have the right mindset coming into the week so we can finish with the same attitude we started with," said Ashlynn Ratley (10)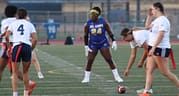 We have players who are dedicated and Coaches who put in the time for us." Samantha Moses (10). 
The girls are extremely excited about their success, and so are the fans who are enthralled with watching them play. 
This new sport, which has been officially sanctioned by California and seven other states, might provide some financial benefits for athletes. The National Association of Intercollegiate Athletics has 15 schools within their system that are offering the sport at the collegiate level. They are ready to give out scholarships to flag football players who want to participate at the college level. The National Collegiate Athletic Association (NCAA) plans to welcome the sport in the spring season of 2025.