Hello DC students, and friends and families who are catching up on our news! This is Maya Williams, editor of the Arts and Entertainment section for The DC Roar. Throughout my senior year, I will focus on getting to know the creative cougars on campus. I will talk to students and staff about the art that they love and their artistic process. I will also ask them how art has influenced their lives.
For this installment, I interviewed Paul Thornton (12), Jake Tennant (12), a student at Casa Rob
le High School, and, Tasi Mendoza (11). about their pumpkin carving experiences. Today I conferred with some students to see how different people express their creativity for carving pumpkins. The first student I interviewed was Paul Thornton (12).
Thornton expressed that his inspiration for his pumpkin carving was Frankenstein. Here are some of the tools he find easiest to use, "I use a bigger kitchen knife to cut a triangular hole out of the top of the pumpkin, a scraper spoon out of the kits to get the insides out, and then the carving kit knives for the designs." Thornton gets his ideas from a book that came with a pumpkin carving kit. Thornton carves pumpkins just for fun.
Tennant got his inspiration by looking up photos to see what other people have done in the past years. He said he chose it because he figured it would be easy but looks cool at the same time. His favorite part is sketching out and looking for designs to carve. He claims that the actual carving part is messy and harder than the searching process.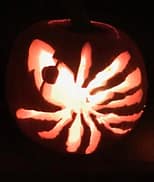 I asked Tennant if carving pumpkins is hard or not, here's his answer. "It's difficult to do smaller details because they break off and look weird. Also I find turns and curves hard trying to find the angles, but other than that I don't think it's too hard.". Tennants favorite carving he has done in the past is a boogie man. It's his favorite because he says he carved it really cool and lit a fake green candle in it to glow a different color.
Mendoza was an innovative thinker for this one. Mendoza went with a creative approach to painting her pumpkin instead of carving. Painting pumpkins rather than carving them makes them last longer, gives it some color, and saves you from getting pumpkin insides all over the place. Mendoza came up with the idea for this pumpkin all on her own. "I like painting a lot and I didn't feel like getting messy and carving is also just too hard in general so I stuck with what I love most."